Being a surfer, Marc Matulich is used to dealing with unpredictable conditions. That experience is paying off professionally, too. As founder and chief executive officer of Airfield Supply Co., he's navigated his 10-year-old San Jose dispensary through the choppy conditions of the California cannabis industry.
Before the pandemic, the dispensary near Mineta San Jose International Airport drew 1,500 customers a day. Founded as the South Bay Healing Center in 2010, it evolved into the upscale Airfield in 2015 with tarmac-themed interiors invoking "that feeling of excitement everyone gets at the beginning of a journey," Matulich said. Its proprietary strain of Jack Herer is grown on site.
Like many dispensaries, Airfield was already offering online ordering and limited delivery when the pandemic hit. Curbside pickup began after indoor foot traffic was limited by local health officials. To serve even more customers where they lived, Matulich pivoted to a unique form of e-commerce.
Dispensaries once required customers to use cash because banks and credit card companies are governed by the federal government, which has declared cannabis illegal. But as digital payment systems have evolved, dispensaries have found ways to allow customers to swipe debit cards (for ATM-like payments) and credit cards (with funds moving to Venmo-like platforms for processing) for their purchases.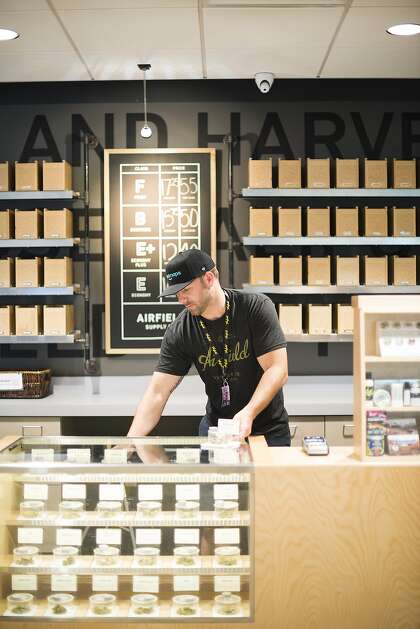 In June, Airfield was among the first in the nation to begin using Treez Pay software, which allows customers to prepay with their mobile devices for cannabis delivery or pickup. They receive a text message with a link to add debit card payment information and authorize its use for the order. It's a one-click, cashless system that Matulich characterized as Airfield's "Amazon